What We Believe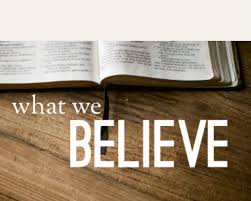 What We Believe
Philosophy of the Foundations Homeschool Co-op Ministry
We are a network of families united in our love for Christ and our calling to home educate our children.

We are not a Church,

however

we are a ministry. We cannot replace the function of a local church body.

We are comprised of families from various denominations and backgrounds. We focus on common views rather than differences.

We believe the Bible is the only inspired, infallible, and authoritative Word of God (2 Timothy 3:16-17; 2 Peter 1:21).

We believe in the Trinity. There has existed in all eternity three co-equal Persons; God the Father, God the Son and God the Holy Spirit. There are no other Persons in the Holy Trinity. (Deut. 6:4; 2 Cor. 13:14; John 1:1-2,14)

We believe that every person is in violation of God's righteous requirements and His holy character by nature and

in

act

. (Rom. 3:23, 5:12; Eph. 2:1-3) Salvation is given as a gift, free to every sinner. This gift must be responded to by faith, not by works. Only in the sacrificial death of Jesus Christ alone is sanctification made. (Acts 13:38-39; Rom. 6:23; Eph. 2:8-9)

We are not a School. Co-op is designed to enhance rather than replace a family's home education program.

We do not judge differing philosophies of education, curriculum, support mechanisms, etc. held by individual families. We entrust these decisions to each family, providing support and guidance when requested.